A SMART ALTERNATIVE TO AN AIR CONDITIONER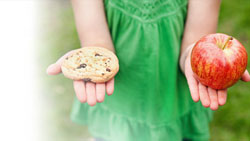 A smart alternative to an air conditioner.
Heating, cooling and dehumidifying, heat pumps have it all. Except, perhaps, a name that does their versatility justice.
Made for everything from the dog days of summer to three-dog nights.
Heat pumps look and function the same as air conditioners for cooling, but in cool months when heat is called for they reverse operation to provide warmth for your home.
An efficient heat pump can do this so effectively some homeowners in warmer climates rely exclusively on these units for year-round comfort. If you live in a colder environment, electric-powered heat pumps are great in combination with your oil- or gas-fueled furnace as a Hybrid Heat® solution, which can result in significant savings on your overall heating costs.
INFINITY® SERIES HEAT PUMP WITH GREENSPEED™ INTELLIGENCE
The pinnacle of Carrier® engineering, our Infinity series heat pump with Greenspeed intelligence offers precise heating and cooling, unwavering comfort, uncompromising energy efficiency and ultra-quiet cooling performance.
INFINITY 20
25VNA0
Up to 20.5 SEER/13 HSPF
INFINITY® SERIES HEAT PUMPS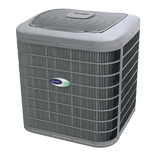 The Infinity series heat pump is part of an intelligent, communicating system that delivers superior comfort, quiet performance and enviable efficiency in both heating and cooling modes. In fact, all Infinity models and sizes have earned the ENERGY STAR® qualification. What's more, they all can be part of a revolutionary Hybrid Heat® dual fuel system, to save you money year-round.
Infinity 19
25HNB9
Up to 19 SEER / 10 HSPF
Infinity 18VS
25VNA8
Up to 18 SEER / 11 HSPF
Infinity 16
25HNB6
Up to 17.5 SEER / 9.5 HSPF
Infinity 16 Coastal
25HNB6**C
Up to 17.5 SEER / 9.5 HSPF
Infinity 15 Coastal
25HNB5
Up to 16 SEER / 8.5 HSPF
Infinity 15
25HNH5
Up to 15.5 SEER / 9.5 HSPF
PERFORMANCE™ SERIES HEAT PUMPS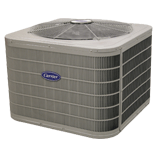 Calling it the Performance & Flexibility & Efficiency series proved to be too much of a mouthful, but these units certainly deserve the name. They deliver cozy heat, refreshing air conditioning and summer dehumidification—all with impressive SEER ratings of up to 17.5. This line is compatible as part of a Hybrid Heat® system and includes standard and compact models.


Performance 16
25HCB6
Up to 17.5 SEER / 9.5 HSPF
Performance 15
25HCC5
Up to 16 SEER / 9 HSPF
Performance 14 Compact
25HHA4
14 SEER / 8.2 HSPF
Performance 13
25HCB3
Up to 13 SEER / 7.7 HSPF
Performance 13 Compact
38QRR
Up to 13 SEER / 7.7 HSPF
COMFORT™ SERIES HEAT PUMPS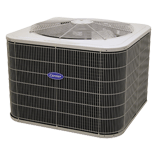 If you're searching for the most economical way to get into a more efficient heat pump, look no further than our versatile Comfort series. These models offer summer dehumidification and air conditioning as well as cold-weather heating performance. They can be used as part of a Hybrid Heat® system and are available in a variety of sizes, including a heat pump that earns the ENERGY STAR® qualification when paired with select indoor equipment featuring high-efficiency blower motors.


COMFORT 15
25HBC5
Up to 15 SEER / 8.5 HSPF
COMFORT 14
25HCE4
Up to 14 SEER / 8.2 HSPF
COMFORT 13
25HCD3
Up to 13 SEER / 7.7 HSPF
COMFORT 13 Coastal
25HBB3**C
Up to 13 SEER / 7.7 HSPF